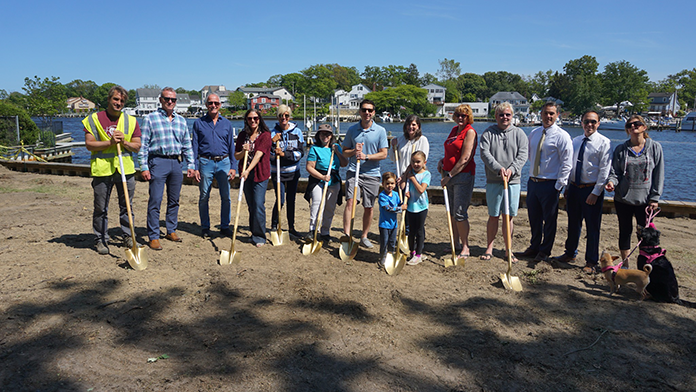 BRICK – Brick Township residents recently gathered at Cedar Bridge Manor Park to mark the beginning of the highly anticipated renovations.
On May 25, officials, engineers, and contractors grabbed their shovels to kick-off the groundbreaking ceremony to rebuild a neighborhood park.
Last month, the council awarded a $465,412 contract to Robbie Lane Enterprises of Towaco, NJ, to take on the project. This was one of six bids that were submitted, ranging from a high of $572,385 to the lowest bid, which was the winner.
"The township has all the necessary permits to proceed with this project," Councilwoman Andrea Zapcic previously said at a Township Council meeting. "The project includes shoreline restoration – specifically riprap stabilization edge with vegetation mulch, much like we did at Bay Harbor Beach."
  Shoreline restoration will protect the park from erosion and damage during high tides and storms. Other amenities will include a half basketball court, an ADA-compliant playground with age-appropriate equipment, fitness components, a walking trail and picnic tables and benches. Additionally, the Township will add a kayak launch and a bike rack.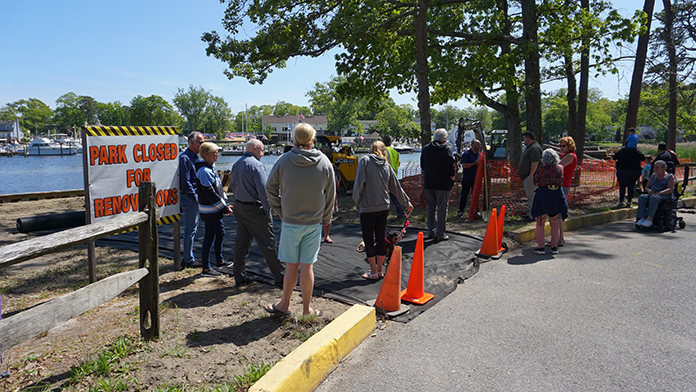 "It will be a place where families and friends will be able to gather to create memories that will last a lifetime," Mayor Lisa Crate said.
Due to its location along the Metedeconk River, renovation plans for Cedar Bridge Manor Park were delayed.
Previously, permits were delayed since the .91-acre waterfront park on Manor Drive was located in a geographic area of high sensitivity where Native American artifacts might be found.
At one point, an archaeological survey was conducted on site which resulted in no identification of historical artifacts.
Many residents came out to the ceremonial ground breaking to show their support because reconstructing the park is important to its neighboring community.
At this time there is no set opening date, however the work is anticipated to be completed in about three months, weather permitting.