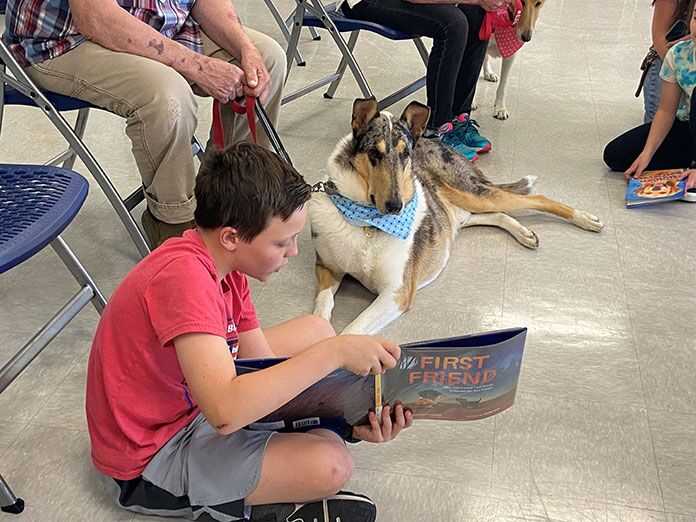 BRICK – Once a month, therapy dogs make their way into the Brick Township Library to help young readers feel comfortable while reading.
The goal of the Paws for Reading program is to practice reading and improve communication skills by having children read aloud to a registered therapy dog.
Lexi Majeski, the Youth Services Supervisor at the Brick Library, explained how the program provides a judgment-free zone for kids.
"It's beneficial using therapy animals to improve children literacy skills and in a fun way," Majeski said.
  The library partners with the nonprofit Bright and Beautiful Therapy Dogs Inc., which trains, tests and qualifies owners/handlers and their well-behaved dogs as certified therapy dog teams.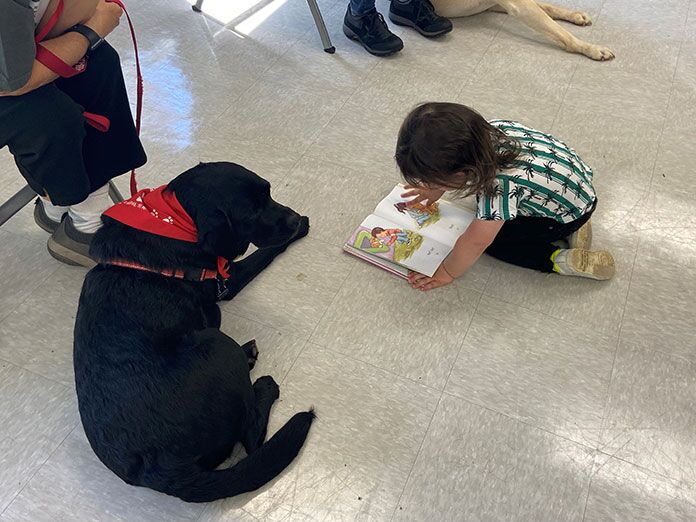 "Our teams visit people in hospitals, nursing homes, assisted living facilities, schools, universities, and libraries. We also visit private homes, court houses, corporations, attend wellness events and even funerals," Lorna Klein, Bright and Beautiful Spokesperson said.
Klein said that a dog who is a candidate for therapy dog work begins with having a calm and friendly disposition and who enjoys being around people.
"All breeds and mixed breeds can be successful therapy dogs – it starts with their temperament and interest. And the dog's owner/handler must have a sincere interest in helping people and have a strong bond with his/her dog," Klein said.
At a recent Paws for Reading, five dogs were present to help kids feel relaxed while reading. The hour-long program welcomed a number of children who had the chance to pick out a dog-themed book to read to their new furry friend.
  Volunteer Linda Horn and her pup Ralfie are regulars when it comes to Paws for Reading. She explained how in addition to going to libraries and nursing homes, her and Ralfie specifically visit someone every week who is home-bound.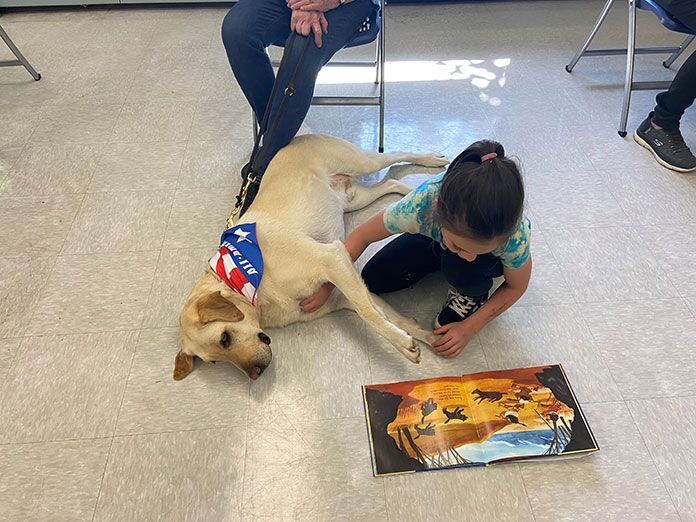 "We try to make people happy. We want to put a smile on their face," Horn said.
  Paws for Reading at the Ocean County Library Brick Branch meets every third Wednesday from 4 to 5 p.m. The program is open to children ages 5 and up. For more information, visit theoceancountylibrary.org.