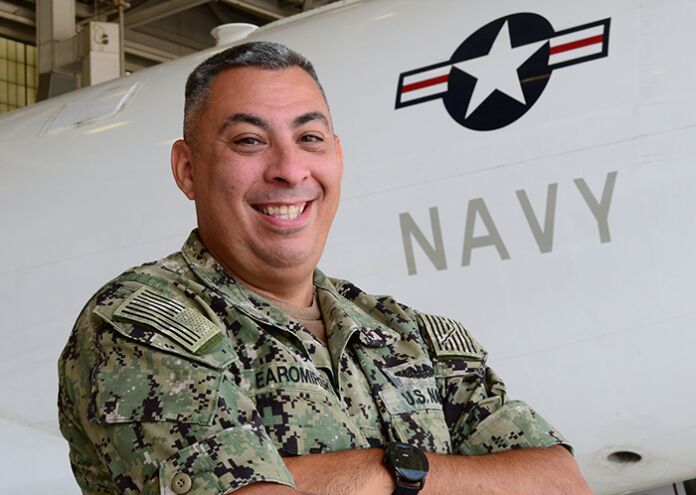 BRICK – Lt. Joseph Earomirski, a native of Brick, is serving in the U.S. Navy as part of the nation's nuclear deterrence mission at Strategic Communications Wing One (STRATCOMMWING ONE).
Its TACAMO ("Take Charge and Move Out") mission supplies airborne communication links to nuclear missile units of U.S. Strategic Command.
Earomirski graduated from Brick Township High School in 1998 and joined the Navy 19 years ago.
"I joined the Navy for my kids. I wanted to be a good role model for them as they grew up. I also thought it was important to serve my country," Earomirski said.
Earomirski explained how the skills and values he gained from living in Brick helped him succeed in the Navy.
"My hometown taught me the importance of a hard work ethic and being able to work with people from diverse backgrounds," Earomirski said.
The Navy's presence aboard this Air Force base allows for the deployment of aircraft to both coasts and the Gulf of Mexico on a moment's notice, which is key for a nuclear deterrence mission.
The Navy command consists of a Wing staff, the Center for Naval Aviation Technical Training, and three Fleet Air Reconnaissance Squadrons: The "Ironmen" of VQ 3, the "Shadows" of VQ 4 and the "Roughnecks" of VQ 7. Earomirski serves as an admin officer with VQ 4.
"I enjoy working with my junior sailors; mentoring them, guiding them and watching them grow both professionally and personally," Earomirski said.
More than 1,300 active-duty sailors and 100 contractors are employed at STRATCOMMWING One. They provide maintenance, security, operations, administration, training and logistic support for the Boeing E-6 Mercury aircraft fleet, an airborne command post and communications relay based on the Boeing 707.
Their mission derives from the original 1961 Cold War order known as 'Take Charge and Move Out!' Adapted as TACAMO and now the command's nickname. Those apart of TACAMO provide a survivable communication link between national decision makers and the nation's nuclear weapons.
"The Navy contributes to the National Defense Strategy through our global reach," Earomirski said. "We have the ability to control the seas to keep them open for commerce and transit."
Earomirski and the sailors they serve with have many opportunities to achieve accomplishments during their military service.
"My selection to the Limited Duty Officer Program was very gratifying. They don't select many people for that," Earomirski said.
"I am always grateful to my parents for the support they provided me and my sister," Earomirski added. "To me, serving in the Navy means being a role model in the community, being a part of something bigger than myself and being able to support the national defense mission."