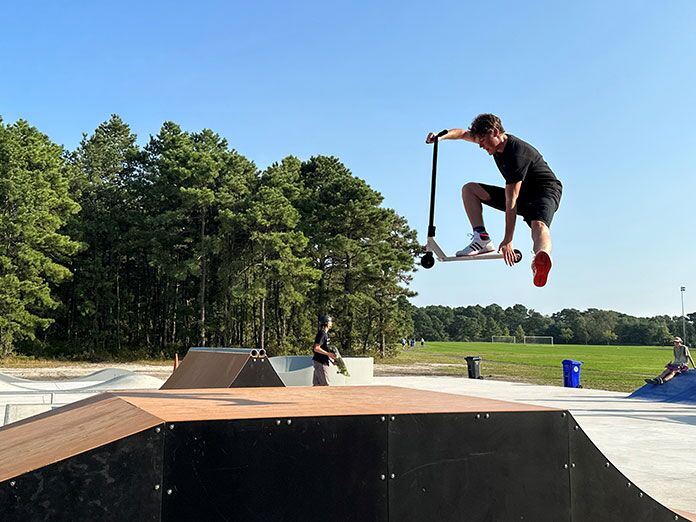 BRICK – Residents of all ages were testing out their tricks at the brand-new bike and scooter park that opened in town.
Located within the Drum Point Sports Complex on Drum Point Road, the idea of renovating the existing skate park came from residents who requested the park be expanded to also include bikes and scooters.
"This park already adds to our impressive roster of recreational facilities here in Brick Township," Mayor Lisa Crate said at the grand opening, which took place on October 2. "In 2019, we opened a new park in Bernie Cooke and shortly after that, when people found out it was designated just for skateboards, we had a lot of people come out to town hall to talk to us about how they were frustrated that there was no longer a place for bikes and scooters. We immediately met with the Recreation Department and got to work. I know it's been some time, but we did immediately get to work to start planning what we could do to this facility here. And this is the result."
Back in April, members of the Township Council voted in favor of awarding a $418,036 contract for the new facility to American Ramp Company.
Township Business Administrator Joanne Bergin along with Township Planner Tara Paxton wrote up a grant to receive funding for the new park.
"This has been in the works for about two years now. When we realized there was a need for the scooters and the bikes, there was a funding opportunity available from the state to redo this park," Paxton said. "This opens it up so that everyone can use the park."
The old park needed some serious upgrades due to safety concerns. The new park features a half-pipe, flat bar rail, ramps, and a pump track so anyone can perform tricks or cruise around whether you're on a bike, scooter, or skate board.
Robert Byrnes from the Township Parks Department explained how they needed to start from scratch and build something new instead of fixing the old equipment.
"The old park was made out of a different material called Skatelite. They don't recommend that anymore; once it breaks it's hard to repair," Byrnes said. "Plus the park was 13 years old, all the parts were pretty obsolete. This is warrantied for 10 years and it's made out of steel."
Byrnes also shared that they plan to add some asphalt and fence in the entire park in the next couple months, to make sure the area is safe for anyone using it.