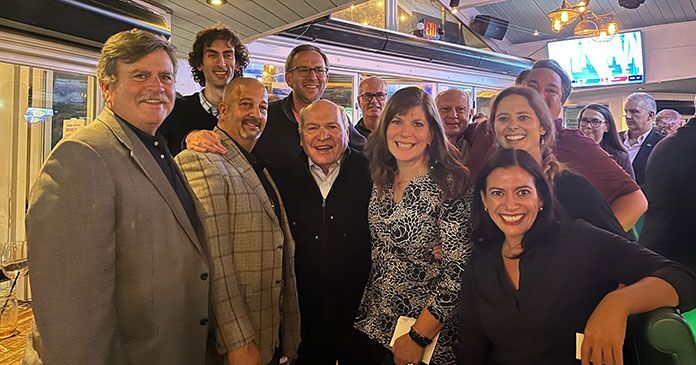 BRICK – Prior to November 7, 2023, no other woman had been elected mayor in Brick Township.
Mayor Lisa Crate said she has always been proud of her community and proud to serve the people of Brick.
"As Mayor, I am responsible to the residents for the future of our town," Crate said.
Crate came out on top in the 2023 election, scoring a victory against Republican candidate, Assemblyman John Catalano.
When former Mayor John Ducey left the position to serve as a Superior Court Judge, Crate was appointed by her fellow council members to step up. Her appointment was unanimous.
Fast forward nine months, Crate is now officially elected as mayor fulfilling a 2-year term, the remainder of Ducey's term.
"I am so excited that I am here now in this position. We've worked really hard and I'm excited to now continue to represent the people of Brick Township. I'm excited to get started," Crate said.
Crate's victory continues the Democratic legacy, as a Republican hasn't held the position of mayor in Brick Township since 2014.
Crate's campaign focused on fiscal responsibility, with a major goal to have no increase in municipal taxes.
"We want to keep our property taxes low, that's always been a priority for us," Crate said. "One of the things we launched over the past six, seven months since I became mayor is to really build on community. Having our community partners work together, connecting those community partners, and meeting with everybody from all different areas – whether it be businesses, our seniors, our students, and reaching out to people who are in need in our community – and seeing how we can help them. That's a huge goal for us."
  In his campaign, Catalano discussed issues involving overdevelopment, traffic and congestion in town, as well as future goals centered around safety and community.
The unofficial results at the close of the polls have Crate with 11,054 votes to Catalano's 7,700. There were 13 write-ins.
While celebrating her win, Crate said her goal is to continue to reach out and listen to residents.
"I am looking forward to more parks opening and meeting more people and learning more about what our community and people do so that we can work together, because that is really what makes Brick so great," Crate said. "The fact that we all care about each other and want to have what's best for the town – I'm happy to be a part of that."
The Democrat slate for council also swept the election. Crate's running mates won their council races: Vince Minichino, 9,412 votes; Derrick Ambrosino, 9,384 votes; Steve Feinman, 9,103 votes; and Melissa Travers, 9,460 votes. Minichino, Ambrosino, and Travers are currently council members. Travers had been appointed to the council to fill Crate's spot when she became mayor.
They bested the Republican slate for council, which included Mary Jonas Buckley, 8,651 votes; Theresa Gallagher, 8,892 votes; James Palmisano, 8,698 votes; and Rocco Palmieri, 8,628 votes.
There were 35 write-in votes.
For the Brick Township Board of Education election, the votes split between parties. Winning the two open seats were incumbent Alison Kennedy, 8,323 votes, and newcomer Mike Mesmer, 6,865 votes. Incumbent Michael Blandina received 6,308 votes, and Gregory Cohen received 5,381 votes.
These are unofficial results because the County Board of Elections takes time to certify the votes.