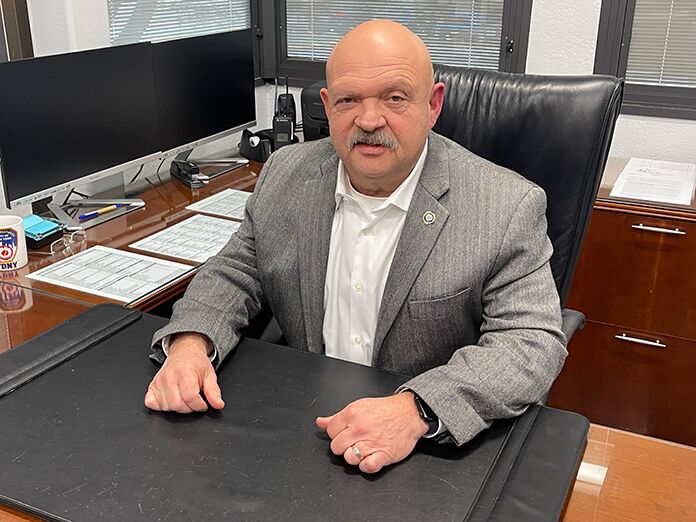 BRICK – James Riccio said he would be working until the last minute on his final day as Brick Township Police Chief, a job he has held for seven years.
"I just feel that it's time to retire; I've been (in the department) over 36 years," the 58-year-old said from his office on January 31, which was his last day. "There's some good people coming up behind me."
Born in Bayonne, Chief Riccio's family moved to Brick just before he started high school.
"I always knew I wanted to be either a cop or a fireman because that's what my family was in the business of doing," he said.
As soon as he turned 18, he joined the volunteer fire department and has been a member ever since. (He has been a fire commissioner since 2012).
Shortly afterwards, he took the police department test and was hired as a police officer in 1986.
"So I fulfilled both dreams, I guess, working as a firefighter and a police officer," he said.
Chief Riccio's entire police career took place in Brick. He rose through the ranks and became a detective, and then as a sergeant oversaw the drug enforcement unit.
In 2001 he was promoted to lieutenant and in 2004 he was moved into internal affairs, and was asked to work with an FBI task force to investigate corruption committed by public officials across New Jersey. In 2007 he was promoted to captain and in 2011, deputy chief.
Asked what he is going to miss the most as police chief, without hesitation he said, "The guys…the one thing in law enforcement, you make a lot of friendships, and they're usually lifelong friendships."
  Asked what he was going to miss the least, Chief Riccio said the 24/7 job can be stressful, having to respond to constant phone calls and emails. "That I won't miss," he said.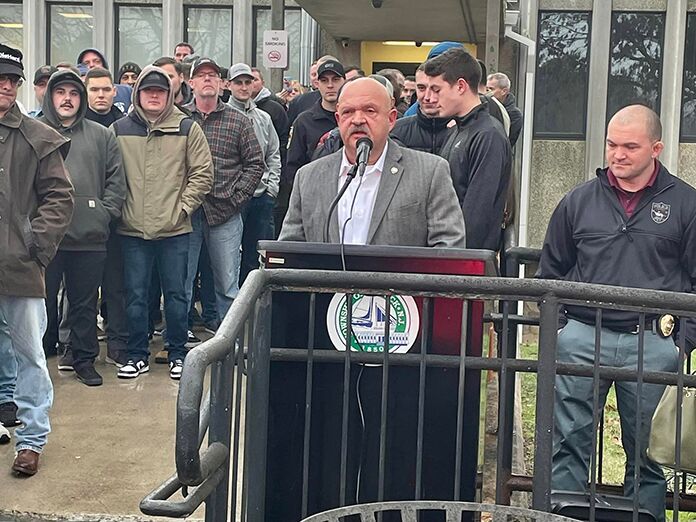 He said the atmosphere of policing has changed since he started in 1986.
Asked about police reform, the chief said that in Brick, and in New Jersey, the police are very well-regulated.
"A lot of the things that came out over the past few years, in regard to police training and so forth, the rules and regulations, we have already been doing my whole career," he said.
In New Jersey, police receive Use of Force training twice a year. Choke holds have always been banned here, Chief Riccio added.
"I think what other law enforcement departments around the country should do, would be to follow New Jersey's lead in training and regulation," he said. "There's always room for improvement, obviously, but I think New Jersey has been in the forefront of doing it right."
The biggest challenge and difficulty facing law enforcement right now is finding people who are interested in becoming police officers, the chief said.
"People that we would never normally consider are applying, and we're meeting some resistance with the state, who are trying to force us to hire people that we would have never hired," he said. "My fear is that if we start to lower our standards we'll start to see here what we're seeing in other parts of the country."
Chief Riccio says he is grateful for the support of the mayor, council and business administrator, who has supported the police department "110 percent…I always have to justify our [budget] needs [but] they've never once thought of the phrase 'Defund the Police,' so we're very fortunate here in Brick."
He said the Brick community is very supportive of the police department.
"One of my priorities was always to emphasize that – we have a very proactive community policing division," said. "I'm probably most proud of all our community policing initiatives when we can interact with the community in a positive way.
"The police department is only as good as the relationship it has with its community, and that's one thing I think we were able to accomplish here," he said.
David Forrester was named as the new police chief, and was sworn in on February 1. Asked if he had any parting advice for his successor, Chief Riccio said they talked about how important the relationship with the community is.
"I think he knows that because he was part of the command staff, he's not brand new to this," Riccio said.
"I don't know that I would stay totally retired. We'll see what opportunities present themselves," he said.
He and his wife, Joy, have four children and seven grandchildren who all live in the area.
"We plan to do a lot more with our grandkids," he said. "They keep us pretty busy."