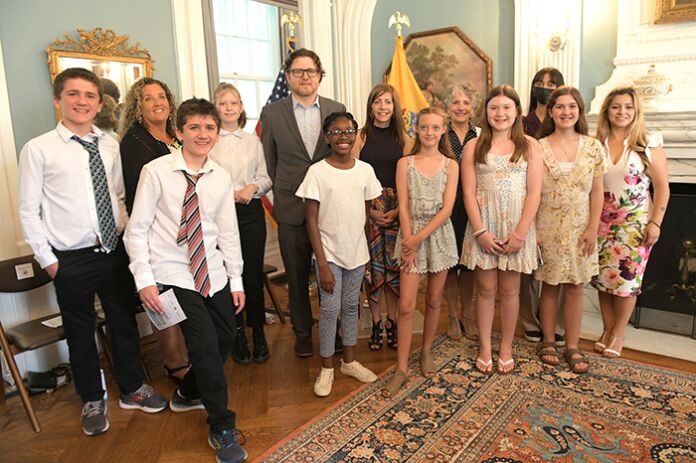 BRICK – Students and teachers of the Green Team at Lake Riviera Middle School have been recognized by state officials for their climate action project involving reusable bottles.
After seeing their school's recycling bins filled with plastic water bottles, they wanted to make a change.
Through their climate action project, the Lake Riviera Green Team learned how plastic production is connected to climate change. They also learned how plastic is made from fossil fuels and emits greenhouse gases through all stages of its life cycle.
Knowing this information, the group created a video urging fellow students to replace any single-use water bottles with reusable bottles and thermoses. The message spread throughout the school, inspiring a lot of the community to make the switch.
In addition, the Green Team sold reusable water bottles to offer an alternative to single-use plastic water bottles.
Recently, their efforts were recognized beyond just the school. The Lake Riviera Green Team was awarded second place among middle schools in the NJ Student Climate Challenge.
The contest encourages students in both middle and high school to create a project addressing a cause or impact of climate change. The contest also asks students to make a short digital story video in order to share what they've accomplished.
On June 8, an awards ceremony was hosted by the Drumthwacket Foundation with Tammy Murphy, New Jersey's first lady. The Lake Riviera Green Team placed second in the middle school category which earned them a $1,000 school grant for future work.
Lake Riviera Middle School was the only Ocean County school to receive recognition for their NJ Student Climate Challenge action project.
"It is an honor to join these bright young minds tonight as we celebrate their hard work on the NJ Student Climate Challenge action projects," said Murphy, who serves as president of the Drumthwacket Foundation. "New Jersey is the first state in the nation to incorporate climate change education across its K-12 learning standards, giving every student the opportunity to study and understand the climate crisis by equipping them with the critical knowledge and skills to combat climate change. Let these projects show that our state, and the world, are in good hands with the generations of climate leaders who will come from New Jersey."
The Lake Riviera Green Team consists of members: Rory Bray, Frankie Civitano, Kyle Danielson, Noah Danielson, Madeline Drobny, Shealyn Mooney, Krupa Patel, Zain Voegborlo; and Teacher Mentors: Pamela Evans & Dawn Byrne.