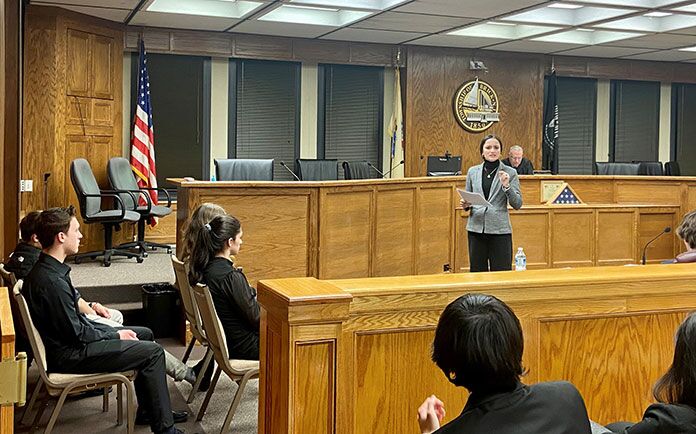 BRICK – "Objection!" – was yelled throughout the courtroom in town hall as students from both Brick Township and Brick Memorial High Schools took the stand during their annual Mayor's Cup mock trial.
The event is a long-standing tradition in the town, and coincides with the Ocean County Mock Trial Competition.
  The two teams argued over a fictional criminal case that has real life facts. This year's case was Dylan Salerno v Sam Arena: 17-year-old Rory Salerno died after participating in a social media challenge involving energy drinks.
In this civil suit, Dylan, who is Rory's grandfather and guardian, was suing Sam for negligence that resulted in Rory's death.
Plaintiff lawyers Dominick Anthony and Frankie Bevacqua stated that Dylan's grandson died due to Sam's bad influence. In their case, they explained that Rory's death could have been avoided if he didn't take part in the energy drink challenge, which he was filming with Sam to post on social media.
They claimed Sam peer pressured Rory into filming crazy challenges often, used him for financial gain, and downplayed his death.
In defense lawyers Bryanna Morales and Aidan Murphy's opening statement, they attested that Rory's death was due to a medical condition that was not taken seriously enough by Dylan. With the evidence that Rory's father died at a young age from the same heart condition, they argued that the medical issue was inherited and Dylan knew about Rory's condition.
The plaintiffs had three witnesses: Logan Huntzberger played by Jake Storch, Dylan Salerno played by Jason Glandorf, and Dr. Alex Schwartz played by Mya Polanco.
The defense also had three witnesses: Bailey Patel played by Jakub Kriso, Sam Arena played by Belle Wurmser, and Dr. Jordan Scott played by Katie Andras.
Logan, who was Rory's good friend, witnessed Rory collapse while doing the energy drink challenge at the park. He called the ambulance and stated how Sam wasn't urgent in this situation.
Dylan claimed that Rory changed after becoming friends with Sam, and Sam encouraged him to do the challenge. At one point, Dylan found several empty energy drink bottles in the house.
When Sam took the stand, she stated how she never forced Rory to film videos with her, he simply volunteered.
  She said she didn't understand how dire the situation was when Rory collapsed. Sam said that the video she and Rory filmed that day had been accidentally deleted and couldn't be recovered because she got a new phone.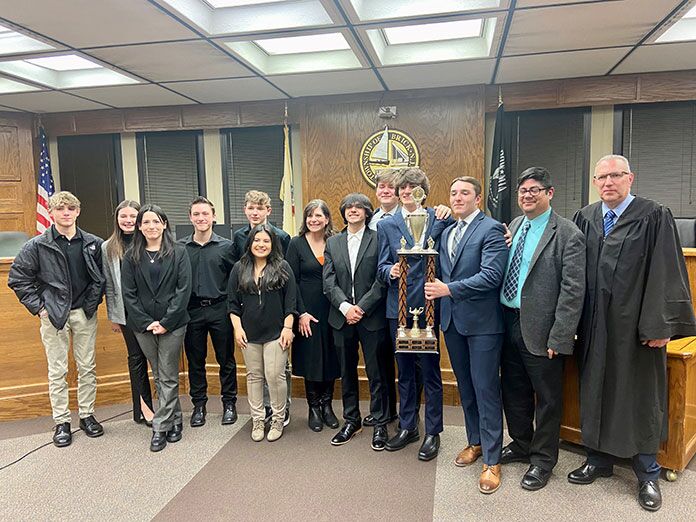 Despite getting emails to stop the challenge as it posed a danger, Sam said she never saw the email as it went to spam.
Dr. Jordan Scott claimed that Rory's cause of death was due to an underlining heart condition. While Dr. Alex Schwartz claimed that Rory's death was untimely and the excessive caffeine was the cause of death.
Once the mock trial concluded, Judge Joseph Grisanti (the township's court attorney) scored each team on a point system and determined the winner of the evening.
Brick Township High School, a.k.a. the plaintiffs, scored the win and took home the "Mayor's Cup" trophy.
Mock Trial Team Advisor Charles Pazmiño said students have been working since September to prepare for the competition.
"I'm very pleased that we were able to pull a win. Our kids did a remarkable job. They've been working all year long for it. We had a lot of new members this year; about 90% of our team were brand new members," Pazmiño said. "We started from scratch and grew to compete in the County competition. We advanced there. Unfortunately, that was cut short, but luckily, we were able to win the Mayor's Cup."
"Shout out to Brick Memorial that did an amazing job. Their coach Diana Corde-Leone always does a great job preparing her students. It's always great fun to see these kids work come full circle," he added.
Mayor Lisa Crate attended the mock trial for the first time and assured that it wouldn't be her last.
"It was very exciting. The kids did a fabulous job and the preparation it must have taken them to actually understand the case and then plead the case and argue the case was very impressive. They should be commended for that," Crate said.
Other students involved included: Dayanara Gavidia, Aidan Rozell, Justus Mess, Chase Roberts, Daniel Lohmeyer, Lacey Ireland, Clark Demarest, Benjamin Neller, Miles Dawson, Sophie Daly, Eva Caravassilis, Skylar Hillin, Daniel Lin, Laurel-Lye Severin, Michael Townley, William Smykowski, Kaylee Hender, and Morgan Satter.