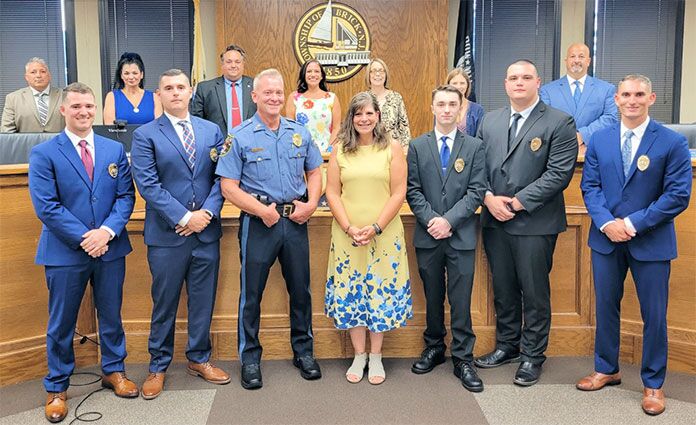 BRICK – Five newly-hired township police officers took their oaths of office during the August 22 Council Meeting, replacing officers who recently retired.
"I say newly-hired because some of the officers tonight will have had prior experience," said Police Chief David Forrester during brief opening comments.
"We are a department that strives for excellence, innovation and collaboration," he said. "Our officers' actions foster community engagement, respect, diversity and promote inclusion."
The chief said "the road to get here hasn't been easy, I can tell you the road ahead isn't going to be a walk in the park."
Chief Forrester told the new officers, "You will need the support of your family, friends and coworkers more than ever. We are all here for you tonight and will be here when you need us in the future."
He welcomed the officers to the police family, and urged them to remember the oath they were about to take: to live by the law enforcement oath of honor, never betraying their integrity, their character or the public trust.
The new officers are Chris Mottes, badge #344, Michael Delaney, badge #345, Matthew Gerrity, badge #346, Justin McLaughlan, badge #347, and Matthew Breslin, badge #348.
Mayor Lisa Crate welcomed the newly-hired police officers and said that, as mayor, she is proud of her administration's commitment to the safety of its residents.
"We have a fabulous police department," she said. "I've been honored to be able to work with a lot of these people throughout the last few months and really get to know them…once you're a police officer here in Brick Township, they really take care of each other. We're really excited to have them."
Councilwoman Marianna Pontoriero said she wanted to not only thank the new officers but also thank their families, "who have to know that while their loved one is doing something that is so important and makes such a difference in the world that they risk their lives every day to perform that job."
She thanked the officer's parents for encouraging their child to serve the community.
In other news, an ordinance was introduced that establishes a Project Labor Agreement to ensure that public construction contracts with total project costs that exceed $5 million which the municipality directly undertakes, are performed promptly at a reasonable cost and with the highest degree of quality.
Total project costs include environmental work, demolition preconstruction and construction costs. The terms of the ordinance include public works projects.
"This chapter also creates opportunities to employ a substantial number of apprentices, thus ensuring that these projects will expand access to living wage careers in the construction trades for a new generation of workers," said Mayor Lisa Crate.
"It also opens up the opportunity for work to be done here in Brick Township by local workers, our local talent and to ensure quality work," she added.
Councilman Derrick T. Ambrosino called the proposed ordinance, "fantastic…it's an example of steps that we're taking to support our unions and to support jobs staying in Brick for Brick residents."
A final passage of the new ordinance and its second reading, public comment and passage will be during the next council meeting which will be held on Tuesday September 12 at 7 p.m.