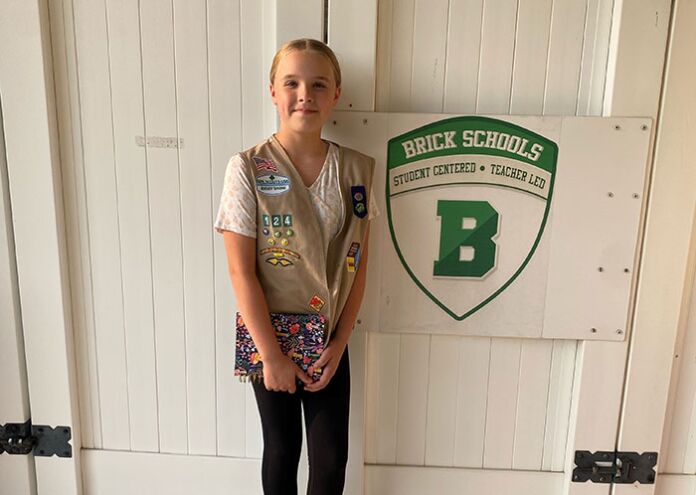 BRICK – Have you ever wondered why teachers have to spend their own money to buy school supplies for students?
Brick Township Girl Scout Rylee Sherwood is determined to change that with her Silver Award Project – "Fill the Classroom."
For the new school year, kids start out with supplies like pencils and notebooks but the items don't last long before they run out. As a result, teachers try to stock up their rooms to provide these necessities.
"On average a teacher spends a minimum of $500 per school year on their own classroom," Rylee said.
Rylee said the idea for "Fill the Classroom" began after she heard about a Book Drive someone was doing to help teachers create classroom libraries in another town.
"I thought it would be a great idea to do this on a bigger scale but with all of the supplies teachers need for their classrooms – not just books," Rylee said. "I've had many amazing teachers in Brick who always pass out dry erase markers, pencils and other supplies as students start to run out and I really think this project can make a big impact. Not only does this project support teachers but it makes sure that students never go without."
The goal of the project is to allow teachers the opportunity to take supplies for free that have been donated, rather than needing to pay out of pocket. Rylee wants to create a room full of items like classroom decorations, standard school supplies, classroom library books, baskets, bins, craft supplies etc. so the teachers can stock up their classrooms before the year starts.
"The goal is for people to always have in their mind that we should be supporting our teachers. They do more than teach in our classrooms," Rylee said.
Rylee expressed how there needs to be a change.
"I know Brick Township has had many budget cuts from the state and they are doing their best to keep everything running but I do feel that this could change. Schools should be given enough money to not only run properly but also support the teachers and give them a budget enough to buy everything they need throughout the year not just in September," Rylee said.
Another goal for the project is to make it sustainable, for PTAs and PTOs to adopt this plan and do this in their smaller school setting each year.
"I know that there is a lot that is done for teachers during Teacher Appreciation week by providing food and snacks and gifts to teachers but I really think that giving them the opportunity to stock their rooms and decorate it to make students feel happy and comfortable not only shows our teachers how much we appreciate them but it gives students the opportunity to always have what they need," she said.
In the past, Rylee and her troop have done a Thanksgiving food drive that benefited over 50 families from Dottie's House and Homes Now Inc. They've also done a Christmas tree drive providing families with a Christmas tree, ornaments and decorations for their apartments.
  Rylee said her "Fill the Classroom" school supply drive has received support from the mayor's office and small businesses around town. So far she has collected a few donations and hopes to have more before the end of the month.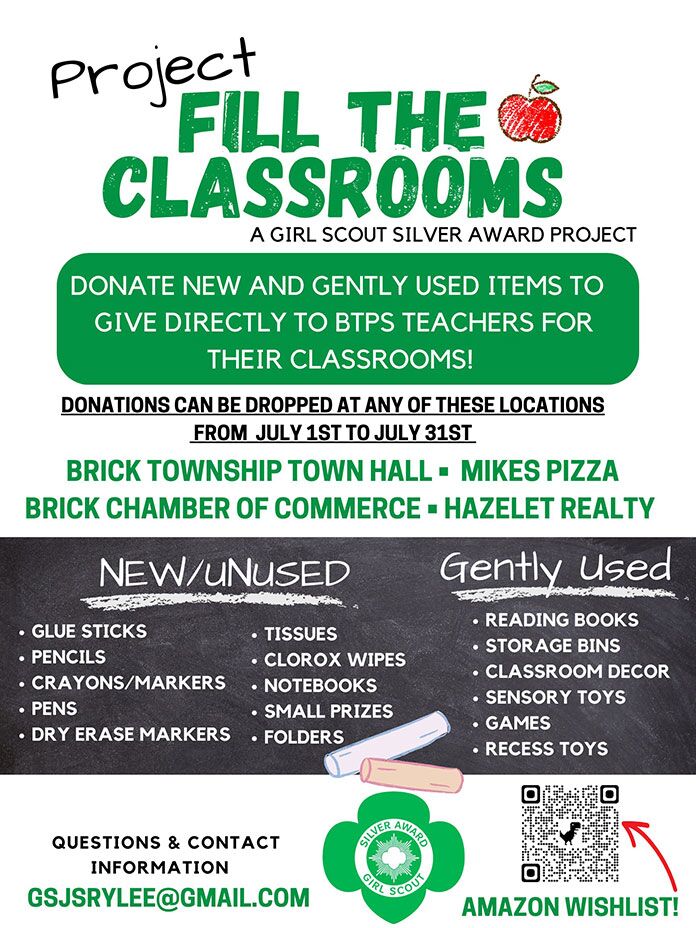 "Brick is a huge town with a lot of schools and a lot of families. If everyone shared the flyers and told their families and friends we could get the word across the entire town," Rylee said. "Can you imagine what we could come up with if the entire town of Brick spread the word and donated?"
The donation drive runs through July 31. Donations can be dropped off at Brick Township's Town Hall, 401 Chambers Bridge Road; Mike's Pizzeria, 319 Drum Point Road; the Brick Township Chamber of Commerce, 270 Chambers Bridge Road (at Civic Plaza), or at Hazelet Realty, 503 Brick Boulevard, Suite 125.
The following items are accepted for donations:
New/unused: glue sticks, pencils, crayons, markers, pens, dry-erase markers, Clorox wipes, tissues, notebooks, folders and small prizes.
Gently used: reading books, storage bins, classroom decor, sensory toys, games and recess toys.
  For more information, you can email gsjsrylee@gmail.com. Rylee also has an Amazon Wishlist set up; you can scan the QR code on the flyer to view.