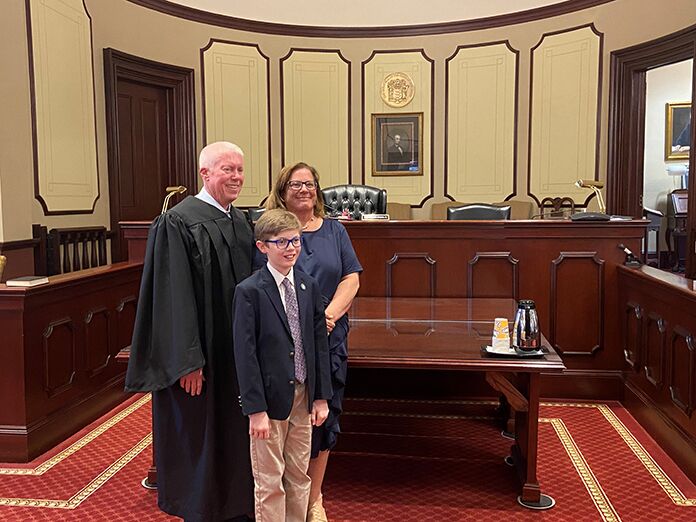 BRICK – A packed courtroom erupted in cheers as former Brick Township Mayor John Ducey put on his black robe, signifying his oath as a judge of the Superior Court in Ocean County.
Ducey was officially sworn in on March 23, shortly after making the major announcement of his departure as Brick Mayor. The extensive turnout included judges currently serving in the county's Superior Court as well as the county's constitutional officers clerk Scott Colabella, Sheriff Michael Mastronardy, and surrogate Jeffrey Moran.
  Also in attendance were most of the Brick Township Council and new Mayor Lisa Crate, Ocean County Commissioners Joseph Vicari, Virginia Haines, Gary Quinn and Bobbi Jo Crea, as well as well as state Senators Christopher Connors, Robert Singer and James Holzapfel. State Senator Vin Gopal and Senator Nicholas Scutari also offered remarks.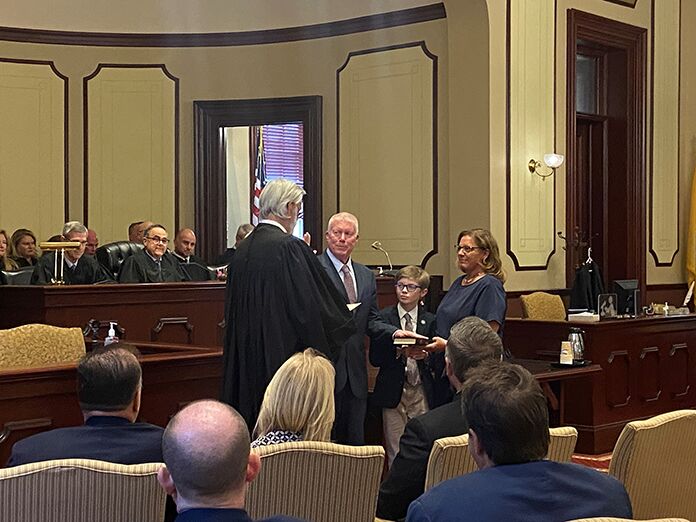 Before Ducey was sworn in, several speakers provided a glimpse of what Ducey has done during his tenure. Ducey had served Brick Township for 12 years, starting as a councilman before being elected as mayor. Brick's Attorney Kevin Starkey, who emceed the ceremony, mentioned how Ducey always put his family first, making time for his son Jack.
Brick Business Administrator Joanne Bergin said working beside Ducey at town hall was the "best time of my life" and explained how Ducey always made staff feel confident.
"He'd say 'You got this,' or 'We've got this' whenever there were challenges. We all shined under him and because of him," Bergin said.
Another speaker was Brian White, Ducey's brother-in-law who was sworn to the bench in 2021. His speech included the story of how the two met while they were serving as law clerks in Ocean County.
  White described Ducey as an "analog attorney" because he always kept a small notebook in his pocket to record important dates. White praised Ducey for being the nicest guy in every room and how he'll continue to make Ocean County proud.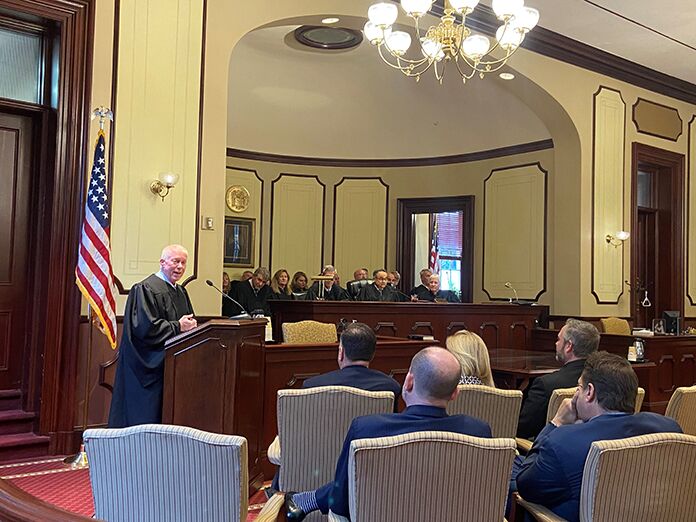 After Ducey was sworn in and slipped on the judge's robe, he reflected on his time severing Brick Township as well as his career, going from a solo legal practitioner to having 500 employees at town hall.
Ducey took the time to thank his wife, Deirdre, for always supporting his career.
"She has stood by my side through my various adventures in life," he said.
He also thanked his mother for the sacrifices she made, especially after his father died when Ducey was in high school.
He gave a special message to his son Jack, who was born just after Ducey was sworn into the Brick Council.
"You've never known anything but me serving as mayor," Ducey said to his son. "This is going to be a big change for both of us, but we'll get through this together."
As Ducey's speech came to an end, he highlighted his fellow colleagues and stated that his experiences will guide him through this new chapter.
"I promise to be impartial, unbiased, and maintain a calm demeanor… work hard, follow the law, and the Constitution… and also show compassion so that justice can always be obtained. I promise to uphold the sanctity of this position so I can be a role model for those who hold this position after me, as those before me were role models to me. I hope that I can live up to all of those great judges who came before me," Ducey said.
According to the order issued by Chief Justice Stuart Rabner of the New Jersey Supreme Court, Ducey has been assigned to family court.