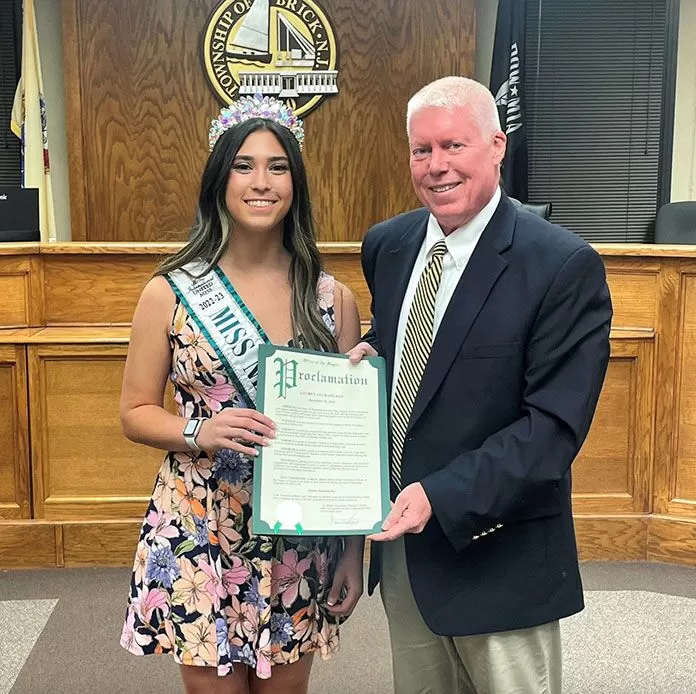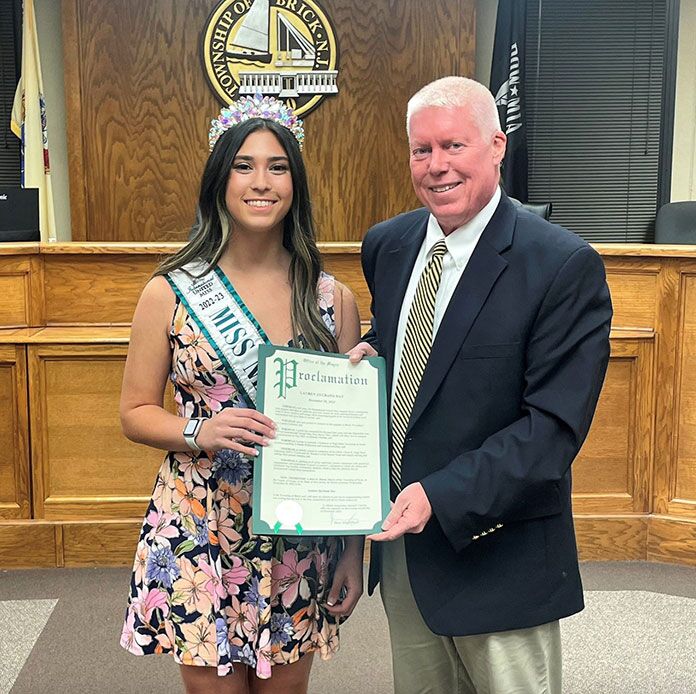 BRICK – An 18-year-old Brick Township resident was recently recognized by the Mayor and Council after being named International United Miss New Jersey Teen.
Lauren Zycband, who has lived in Brick Township her entire life, recently received the title back in September and will now move on to compete at Internationals in Orlando, Florida, this summer.
Lauren originally started pageants when she was 8 years old, and started competing in International United Miss four years ago.
"I was very shy when I was younger and my mom's friend's daughter did pageants and she said I should try it, thinking I would like it. So, I went to an open call for a pageant and I got accepted. I've been doing it ever since," Lauren said.
According to their website, the International United Miss Pageant aims to celebrate girls and women for their accomplishments and seeks to foster positive self-image while encouraging girls to be involved in their local communities and give back to society.
Lauren is currently a freshman at High Point University in North Carolina majoring in Media Production and Entrepreneurship. She's a member of the Hillel, Circle K, High Point University (HPU) Vision and the Women's Club Soccer Team and enjoys making and editing films around campus.
Additionally, Lauren volunteers with several organizations and established "Lauren's Lunches," a program where she makes and distributes bag lunches at homeless shelters, which is also her platform for the International United Miss competition.
When asked if she would continue with pageants after Internationals, Lauren stated how she has no end date in mind.
"This year was very hard for me because it's my first year at college. It's not about winning. You meet so many amazing people throughout the years and I've learned all these life skills; I would never not want to do it," Lauren said. "But as I'm getting older, I realized it's hard to balance since I go to school in North Carolina, and I compete in New Jersey. It's also hard with going to school full time. I don't have a time in mind when my final pageant will be, but at this time I'm doing pageants and school at the same time."
On December 27, Mayor John Ducey and the Township Council honored Lauren for her achievements and proclaimed December 28, 2022 as Lauren Zycband Day.
"It [the recognition] feels amazing. I've known Mayor Ducey my whole life as he lives right by me in my neighborhood. So, he's seen me grown up. I've lived in Brick Township my whole life. Being able to represent my town feels good," Lauren said.
  For Internationals, Lauren is currently looking for sponsorship from local businesses. "If any local businesses would like to support me and my journey to Internationals, they can reach out at Laureniumteen@gmail.com. Sponsors will be listed in the program."