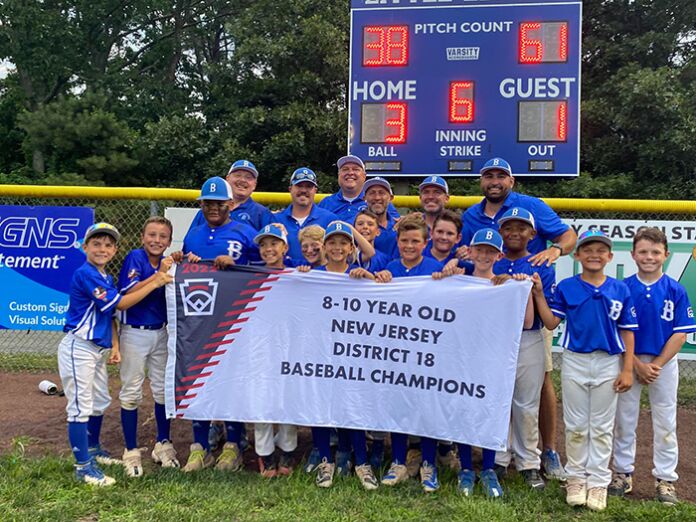 BRICK – After a long six-day tournament, the Brick Little League 10-Year-Old All Stars earned second place in the NJ Section 3 Championship Tournament.
On July 6, the Brick 10-Year-Old All Stars were crowned NJ District 18 Champions after defeating Toms River Little League 3-1. They entered into the Championship Tournament with high energy and ready to succeed.
The young team has been keeping viewers' attention with their excellent pitching, great defense and clutch hitting. This combination shows how much of a bright future these players have.
"The core of the team has been playing together since they were seven years old." Manager Jason Burgess said. "The kids have been working hard since January when we started hitting clinics, winter workouts and bullpen sessions. Our message has not changed in four years, and we expect winning results on and off the field. Everyone knows they have a job to do whether it be get-on-base, bunt runners over, hit runners in, get ahead in pitch counts and supporting each other."
After winning the District 18 title, the team moved on to the NJ Section 3 Tournament which was hosted by Brick Little League on the team's home field this year.
In the Tournament, Brick Little League joined four other District Champion Little Leagues, which included: South Wall Little League (D11), Sunnybrae Little League (D12), Two River Little League West (D19) and Clark Little League (D10).
On July 16 and 17, the Double Elimination Section Tournament began with all teams competing.
Brick unfortunately started the tournament off with a loss. Their first game against Two River West ended at 0-10, sending Brick to the Loser's Bracket. However, this loss didn't stop the team from bringing the heat in their next games.
Brick's next game on July 19 brought them their first victory in the Tournament, defeating Sunnybrae 15-0. Brick proceeded to score a second win, beating South Wall 11-1 on July 20.
After these two games, Brick faced Two River West in the Championship Series. Two River West had been undefeated in the Tournament so far.
On July 22, Brick started off the first Championship with five straight doubles in the first inning, taking an early lead. Starting pitcher Jacob Booker threw for nearly four innings with two earned runs and five strikeouts. Max Steinhandler hit a two-run home run in the third inning. Pitcher Ryan Guarda closed out the game pitching for almost two innings. This secured the team an 8-4 win, moving Brick into the Championship Final on July 23.
During the Championship Final, Brick fell short to Two River West, who defeated them 4-8.
Brick had an exciting run and they landed themselves second place in the NJ Section 3 Championship Tournament. The offense was led by Max Steinhandler who had 20 hits, batted .645 with three home runs and 25 RBIs combined in both the District and Section Tournaments. Starting pitchers Anthony Fornoro and Jacob Booker had a combined 53 strikeouts and a combined 3.03 ERAs this summer.
"We are all excited about what is to come with this team in the years to come and appreciate all of the support in the Brick Community. It was great seeing all the support from friends and family that came out to the games being the host site for the Section Tournament," League President Mike Desmond said. "The League had great performance all around this All-Star Tournament including a Senior League District & Section Banner; and 2 Runner Up Tournament Performances in our younger age groups with our 8U and 7U Tournament Teams. There is certainly a buzz at our complex with competitive and fun youth baseball."
Brick Little League 10-Year-Old All Star Roster:
Jacob Booker
Jake Burgess
Brandon Cicchetto
Brendan Desmond
Anthony Fornoro
Layla Goode
Ryan Guarda
Nate Iannuzzelli
Jayden Jaycox
Matteo LaTorre
Danny MacInnes
Max Steinhandler
Nick Tronio
Coaching Staff:
Manager Jason Burgess
Coach Josh Guarda
Coach Dan MacInnes
Coach Dylan Jaycox