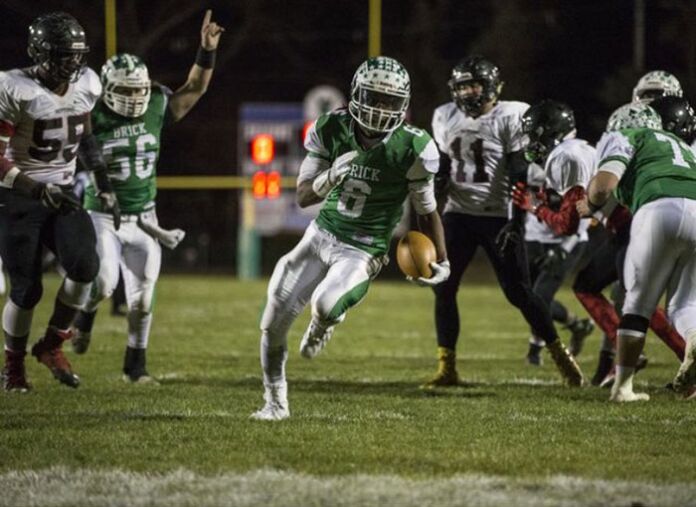 BRICK – It's the dream of virtually every athlete who slaps on shoulder pads to play in the National Football League.
Ja'Sir Taylor has taken a large step toward realizing his dream.
The former Brick Township High School standout was selected in the sixth round – 214th overall – of the 2022 NFL Draft by the Los Angeles Chargers. His name was called on the third and final day of the 87th annual Draft in late April.
"I first dreamed of playing in the NFL since I first strapped on a helmet playing Pop Warner in Asbury Park and Neptune when I was either six or seven years old," the 2017 Brick graduate said. "The Draft was very long and stressful, but I was around my family and friends. Day Three came and I tried not to stare at the TV too much. When my name was called, it was a relief."
  Day Three was one of the most emotional in the life of Taylor.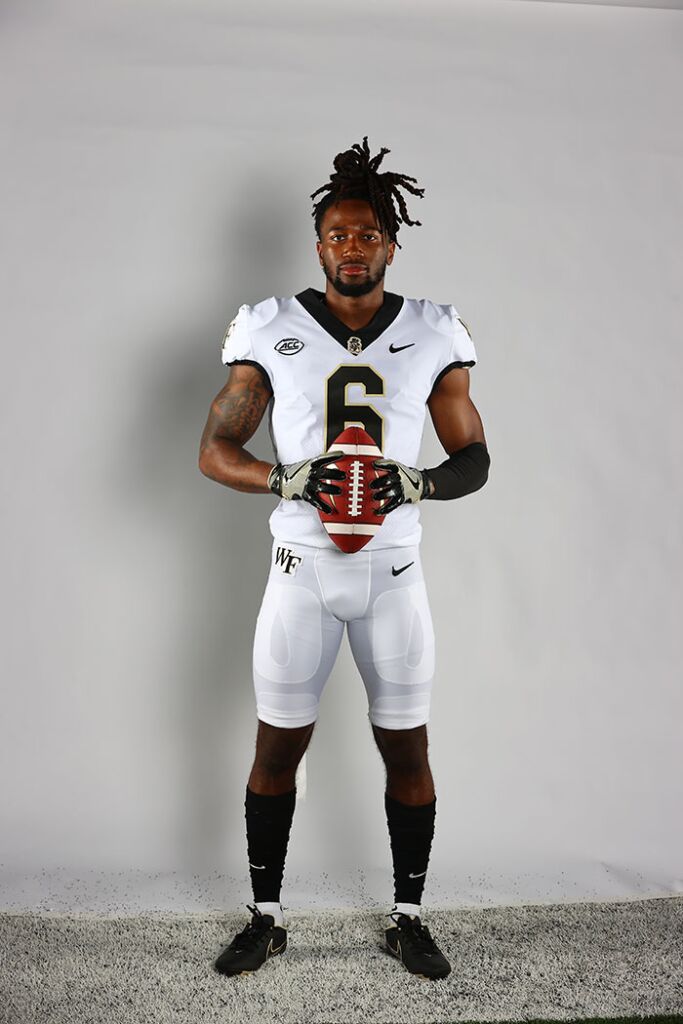 "Honestly," he said, "I was filled with joy and happiness when my name was called. When I got the call, it was all cheers and hugs and a dream come true."
Taylor's name also was on the lips of the Green Bay Packers, the Cincinnati Bengals, the Indianapolis Colts, the Kansas City Chiefs, the New York Giants and the New York Jets. Taylor received his introduction to the Chargers on a Top 30 Visit.
The visit allows a team to work with prospects and explore if they will be a good fit. Prior to the Draft, each club is limited to fly in 30 out-of-town prospects for private interviews. This year's grab bag consisted of 262 players and seven rounds.
"I had a feeling it would be the Chargers," Taylor said. "They brought me in for a visit a couple of weeks before the Draft."
The total value of the contract of the 214th overall selection is $3,792,012, according to the website Spotrac. They went on to state that the signing bonus has a price tag of approximately $132,000, and the 2022 cap hit is $738,003.
"The NFL is a business, a big business," Taylor said. "Even though I was drafted, I still have to come into the building each and every day and earn my spot."
Drafted as a cornerback, Taylor starred at Wake Forest University at the position. He recently signed a rookie contract. The contract is divided into two categories, drafted players and undrafted players. The length of the contract is four years regardless of where in the draft the player was chosen. There's a possible option of a fifth year after the third year of the deal concludes.
"Taylor was a two-time captain at Wake Forest – a really good program," Los Angeles general manager Tom Telesco said on its website. "(Wake Forest head coach) Dave Clawson does a great job there. Really quick, athletic. Can probably play a little inside and outside. We want to keep adding some guys with really good cover skills to kind of fit what we do so that's why we went with Ja'Sir."
Los Angeles coach Brandon Staley said one of the Chargers' scouts, James McPherson, played a large role in the drafting of Taylor.
"Ja'Sir Taylor was a guy that, from a defensive perspective and a kicking game perspective, we just felt like we really knew the guy," Staley said on the Chargers' website. "I think James, our area scout who is a former Demon Deacon quarterback, got us some inside knowledge on him. He was here on a 30 visit. He also had a private workout. Just felt like we knew a lot about him. He's a two-time captain there. He also was a kickoff returner. He returned a kickoff last fall against Old Dominion University."
Staley said he is impressed with Taylor's size and athleticism.
"He's 5-foot-11, 190 pounds," Staley said, "and he has 4.4 speed (in the 40-yard dash). He has a 37-inch vertical jump. Ball skills. He's played inside and outside for Wake Forest. Just feel like he's a DB (defensive back), a guy that we'd like to join up with. We'll see where it goes. (Special teams coordinator) Ryan Ficken and (assistant special teams coach) Chris Gould also did a lot of work on him from a special teams standpoint as a returner in the core unit."
Taylor said he enjoys playing under Staley.
  "Our coach is building something great," he said. "I feel we can compete week in and week out with any team."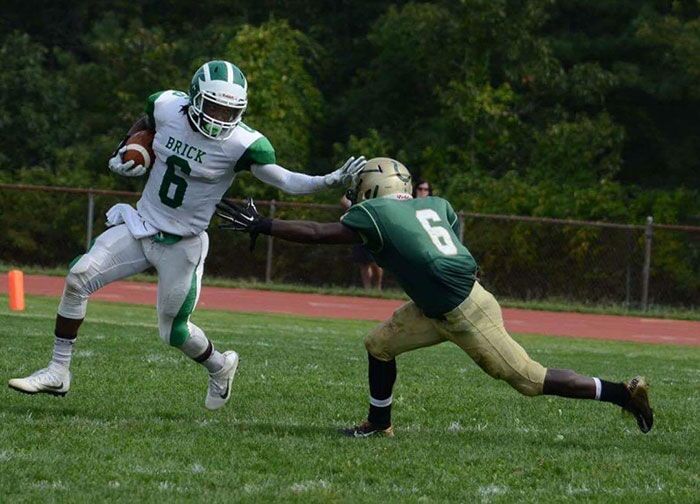 Taylor competed at the team's rookie minicamp, its first look at its rookie class, for two days during the middle of May.
"Minicamp was great," he said. "We went over a lot of technical stuff on defense and special teams. I showed (the Chargers) my ability to learn the plays and pick up on things. I can play either on the inside or the outside in the defensive backfield. I can also play in nickel packages. I feel comfortable playing inside and outside.
"I showed them I am a high energy guy and a great teammate. I showed them that I hustle," he said. "I offer them versatility. I go out there each day to earn the respect of my coaches."
Taylor was present at the Chargers' Organized Team Activities. Better known as OTAs, they are voluntary workout activities during the club's nine-week official offseason workout program. Also on tap is a two-day mandatory minicamp later in June before the Chargers split for the summer until training camp begins.
Taylor enjoyed a memorable career in the Demon Deacons' uniform, establishing the team's record for career games played with 62 in five seasons. He started in the team's final 23 games. He made 185 career tackles, including 153 solo stops. He made a career-high 60 total tackles last fall, including a career-best 47 solo stops for second on the club, starring at cornerback.
"I had a great five years there," he said. "I learned a lot as a player and as a person. I learned quickly. I learned the techniques and upped my game each and every year."
He picked off six passes, including two last season, in his final three seasons. Atlantic Coast Conference coaches, the league and the media took notice of Taylor's play – enough for him to bestow All-ACC honorable mention honors on the former Green Dragon. Named the ACC Specialist of the Week after starring against Old Dominion in a 42-10 win over the Monarchs, Taylor is the first Wake Forest player to return a kickoff for a touchdown and pick off a pass in the same game. He tied for second on the team in fumble recoveries and was second in picks on the club last fall.
"Ja'Sir was an outstanding young man who was extremely productive for our program," Clawson said on the Demon Deacons' website. "He improved every year on the field and truly became a leader in our locker room. Ja'Sir's tireless work ethic will make it an easy transition for him when he gets to the Los Angeles Chargers. In my eight years at Wake Forest, it was hard to find a young man with better character and determination than Ja'Sir."
  Taylor was the second Wake Forest player chosen by the Chargers and the first since linebacker Carlos Bradley was selected in 1981 in the 11th round. Taylor, who received his undergraduate degree in communications from Wake Forest in the spring of 2021, was the seventh defensive player and third defensive back chosen by an NFL team in Clawson's era. Taylor joined first-round selection Kevin Johnson in 2015 and All-Pro Jessie Bates, whose number was called in the third round in 2018.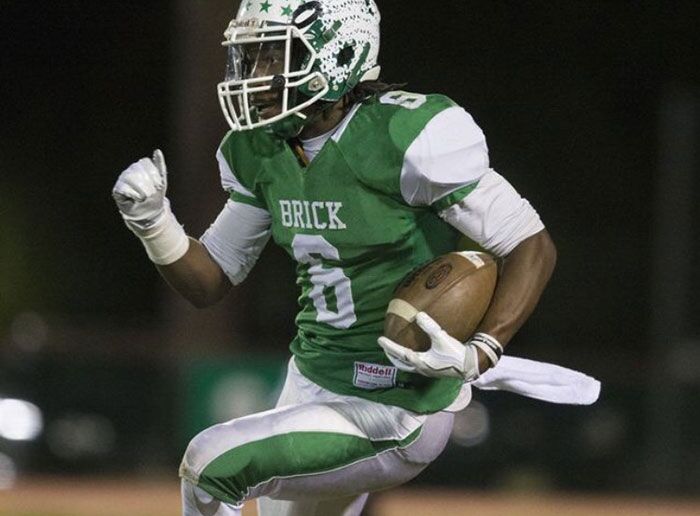 Taylor began his high school career at Brick on the freshman team and was promoted to the varsity halfway through the season by then-coach Rob Dahl. Taylor played slot receiver and provided speed at running back on the team's famed Jet Sweep.
"I watched him on film at night," Dahl said. "When I watched him on film, I said, 'Wow! This is another level from his teammates.' He was exactly what we were missing. Bringing him up to the varsity was a no-brainer. We had to at least try it out and he rose to the occasion.
"I feel freshmen should play with their friends so I was reluctant to promote him, but we lacked speed at slot receiver. He played his first varsity game against Toms River North and made an impact right away with a couple of catches. I told our athletic trainer, Jim Barber, 'No way our freshman team is getting him back.' "
"Ja'Sir started for me as a sophomore at slot receiver and cornerback," Dahl said. "At that point, Temple and many other schools had him on their radars. Ja'Sir is one of only two freshmen not redshirted by Wake Forest in its history as he played for them right away."
Coming out of Brick and the owner of four varsity letters, Taylor was rated the 146th best athlete in the nation by 247, a scouting organization. He started on offense as a freshman on the Green Dragons' team which won the NJSIAA Central Jersey Group III championship with a victory over Colts Neck in the championship game at The College of New Jersey. Taylor and his comrades were the beneficiaries of an inspiring pregame speech from Warren Wolf, who guided the Green Dragons prior to Dahl taking over.
Taylor is the second former Brick player in school history (Brick opened in 1958 when it fielded its first club) drafted by an NFL team. Art Thoms, who played under Wolf, was selected 22nd out of Syracuse University in the first round in 1969 by the Oakland Raiders. Thoms played defensive tackle and was a member of Oakland's Super Bowl XI championship team in 1976. He played for nine seasons, eight with the Raiders and one with the Philadelphia Eagles.
"Ja'Sir is getting his NFL shot because he has an outstanding work ethic," Dahl said. "When I have talked to him over the years, he has said, 'I put in the work and try to get better each day.' He worked hard in the classroom, making the Dean's List at Wake Forest during the second half of his freshman year. He was put on the spot at Wake Forest and as the years went on he was made a captain by his peers. During his senior year, he worked even harder and played on the special teams at Wake Forest. Pro scouts look for someone who can play on the special teams and play defensive back as the years progress.
"His work ethic was incredible at Wake Forest where he simply outworked everyone. He has had this dream. Others shake their heads and say, 'I don't know about that.' He wanted to show everyone that he is not an average player."
Dahl said he was emotional when he learned of Taylor's selection.
"I was speechless," he said. "I learned of it when I was coaching a youth soccer game. He ran a 4.35 in the 40-yard dash on his Pro Day at Wake Forest. When he did that, I knew he would be on people's radar. When he was drafted, I was elated. This could not happen to a better young man. He has the heart. I knew what he did to get there and that's why I'm so proud of him. He worked really hard for this. It did not just fall in his lap.
  "His tremendous work ethic got him to where he is today."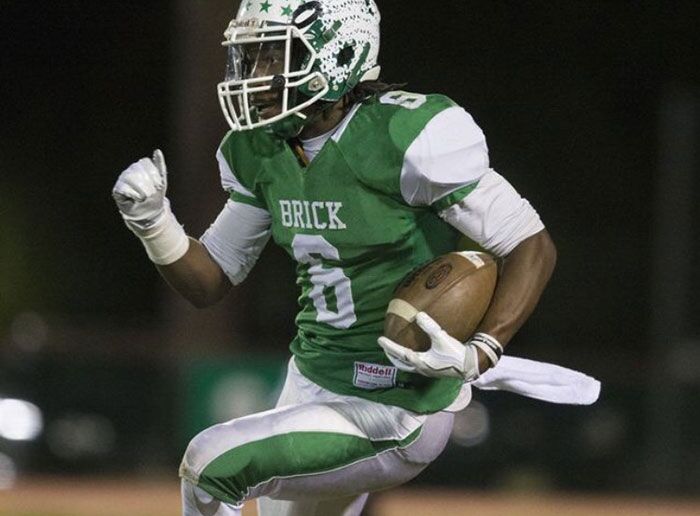 Taylor put his 10.74 speed in the 100-meter dash to good use as a senior, rushing for 544 yards and 11 touchdowns to lead the team.
Taylor competed in boys varsity basketball as a sophomore and junior for then-coach Mike Gawronski, now an assistant principal at the Veterans Memorial Middle School in Brick Township.
"This is absolutely amazing, a dream come true for him, " Gawronski said. "Even at the high school level, his work ethic was not ordinary for high school athletes. He had a goal and nothing was going to get in his way to achieve it. He was a quiet athlete. He led by action rather than his voice. He was easily one of the best athletes in our school. He was a lockdown defender and very smart. His I.Q. helped him here and in college and is the reason he will be successful in the pros.
"He knew exactly where to go on the court. You only had to show him how to do something once. He always looked out for his teammates. He always looked for ways to make them successful."
Gawronski said Taylor is an inspiration to athletes.
"Even now," he said, "Ja'Sir sets a great example for our young athletes in town. .004 percent of athletes get to play at the NFL level. This story is amazing, but not surprising."
Taylor played during the 2015 and 2016 seasons for Len Zdanowicz, who replaced the retired Dahl. With Taylor in the lineup as a sophomore and junior, the Green Dragons won Shore Conference Class A South. He excelled at slot receiver and cornerback as a junior and senior.
  "He has always been a great kid," Zdanowicz said. "He was never full of himself. He was humble. He had a relationship with every player on the team – even those who were not the best players. Everyone liked him. He's just a nice kid. He was very shy for most of the time, but he opened up more when he was a junior and senior. He had a circle of friends he was close with. As a coach, you just loved having him in your program as he made everyone around him better because of his relationships with everyone."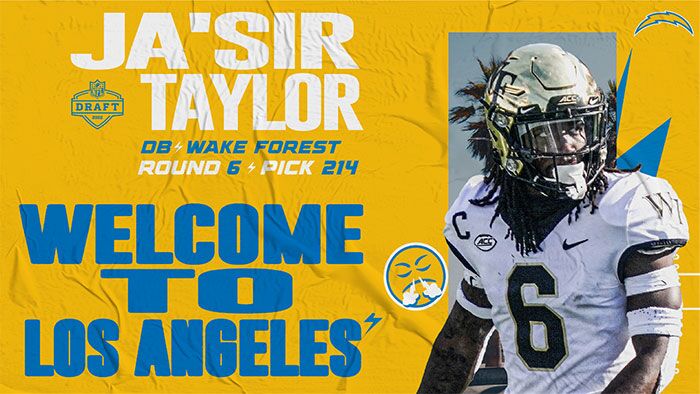 The Packers and the Super Bowl champion Los Angeles Rams checked up on Taylor through Zdanowicz.
"They asked a lot of me about what type of person he was," Zdanowicz said. "I said, 'He does not get flustered.' "
Zdanowicz said Taylor also was recruited by Monmouth, Temple, Rutgers and Syracuse.
"Ja'Sir committed to Temple and changed his mind when Wake Forest came in," Zdanowicz said. "I felt a smaller campus would be good for him. When Wake Forest came in, it was a no-brainer. When he chose Wake Forest, I felt it was a great move. Temple was recruiting a different type of kid and he was not an in your face type of kid. Wake Forest is not a city campus and he thrived when he went down there.
"When he did go crazy, the other kids picked up on it. They said, 'Ja'Sir is going crazy. Let's go.' If he was stuffed on a play, he said, 'Give me another crack at it. next time.' He was an awesome kid to coach."
Zdanowicz said he sees a bright future for Taylor.
"I wouldn't bet him out," he said. "When he was doubted, he overachieved. He's smart and will adjust to the NFL type of play. I will bet my money on him."
"That I am in the NFL is a credit to all of the hard work that I put in in Pop Warner, high school and college," Taylor said. "If you are talented, work hard enough and can play, no matter where you are the NFL will find you."